12.3

Diversification & Markowitz Minimum Variance Portfolio

Chapter-4 from Szylar (2013) provides an easy to follow introduction and futher details.
Objective: Rational investors; maximise the expected return for a given risk, and they minimise the risk for a given return.
A minimum variance set is the set of all portfolios that have the least volatility for each level of possible expected return.
An efficient set (frontier) is the part of the minimum variance frontier that offers the highest expected return for each level of standard deviation.
Given the level of risk or standard deviation, investors prefer positions with higher expected return and given the expected return, they prefer the positions of lower risk.
Taking this into account, we can determine the minimum variance set.
The point where the standard deviation is at its lowest is the global minimum variance portfolio (GMV).
Portfolios that lie from the GMV portfolio upwards provide investors with the best risk–return combinations and thus are the candidates for the optimal portfolio.
These portfolios are called the efficient set (frontier); and in order to be on the efficient frontier, the portfolios have to satisfy the following criterion:
Given a particular level of standard deviation, the portfolios in the efficient set have the highest attainable expected rate of return.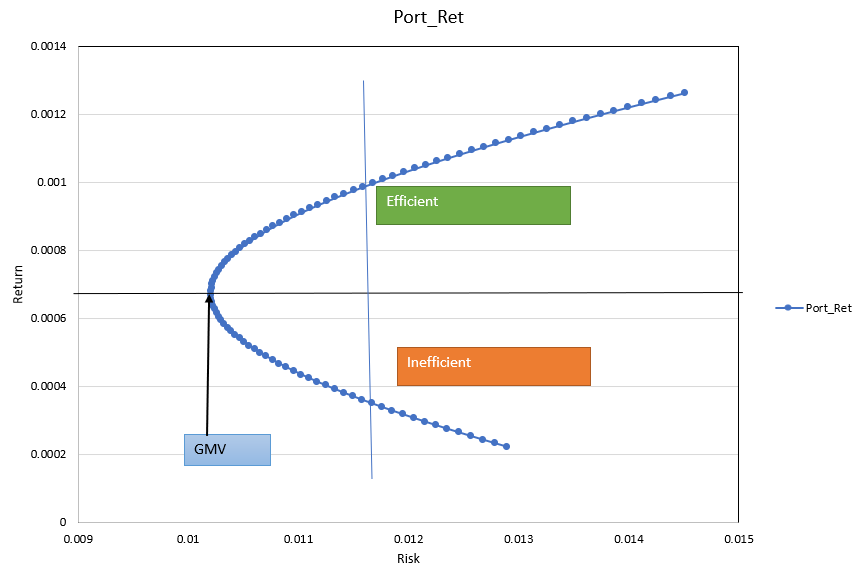 References
Szylar, Christian. 2013. Handbook of Market Risk. John Wiley & Sons.