10.2

Technical Charts

Here we will use the quantmod and TTR package to generate some Technical Charts. The data will be downloaded from Yahoo Finance.
10.2.1

Candlesticks and OHLC chart
As demonstrated in the previous chapter, R package quantmod can be used to download daily OHLC data (Open, High, Low and Close) with volume.

quantmod (https://www.quantmod.com/) also allows to import data from csv files.
# Run the following to download and save the data, same as the




# regression chapter. Only run if data requires update of different




# assets are used




library

(quantmod)


library

(pander)


# download stock




=

 

getSymbols

(

"BHP.AX"

, 

from =

 

"2019-01-01"

, 

to =

 

"2021-07-31"

, 

auto.assign =

 

FALSE

)
 BHP 

# download index




=

 

getSymbols

(

"^AXJO"

, 

from =

 

"2019-01-01"

, 

to =

 

"2021-07-31"

, 

auto.assign =

 

FALSE

)
 ASX 

# save both in rds (to be used in the TA chapter)




saveRDS

(BHP, 

file =

 

"data/bhp_prices.rds"

)


saveRDS

(ASX, 

file =

 

"data/asx200.rds"

)
library

(quantmod)


library

(pander)


=

 

readRDS

(

"data/bhp_prices.rds"

)
 BHP 

=

 

readRDS

(

"data/asx200.rds"

)
 ASX 

pander

(

head

(BHP), 

caption =

 

"OHLC Data"

, 

split.table =

 

Inf

)
OHLC Data

| Period | BHP.AX.Open | BHP.AX.High | BHP.AX.Low | BHP.AX.Close | BHP.AX.Volume | BHP.AX.Adjusted |
| --- | --- | --- | --- | --- | --- | --- |
| 2019/01/02 12:00:00 AM | 34.28 | 34.55 | 33.65 | 33.68 | 7290354 | 26.68 |
| 2019/01/03 12:00:00 AM | 33.88 | 34.13 | 33.56 | 33.68 | 8473568 | 26.68 |
| 2019/01/04 12:00:00 AM | 33.1 | 33.39 | 32.96 | 33.38 | 9314513 | 26.44 |
| 2019/01/07 12:00:00 AM | 34.5 | 34.55 | 34.28 | 34.39 | 8553510 | 27.24 |
| 2019/01/08 12:00:00 AM | 34.6 | 34.68 | 34.43 | 34.43 | 8685056 | 27.28 |
| 2019/01/09 12:00:00 AM | 34.5 | 34.59 | 34.19 | 34.3 | 9459525 | 27.17 |
chartSeries

(BHP, 

theme =

 

"white"

)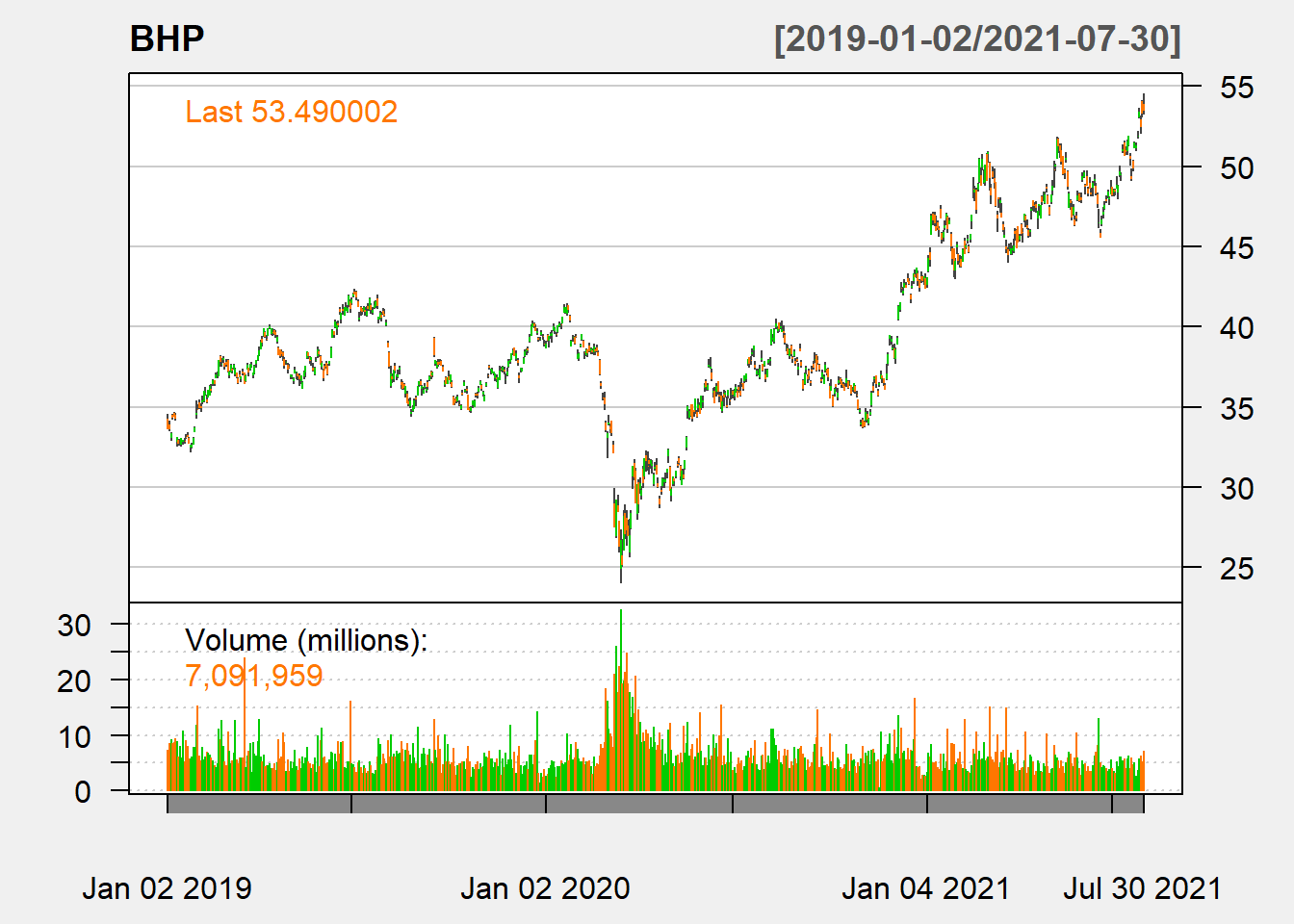 addTA

(ASX

$

AXJO.Close, 

col =

 

"darkblue"

)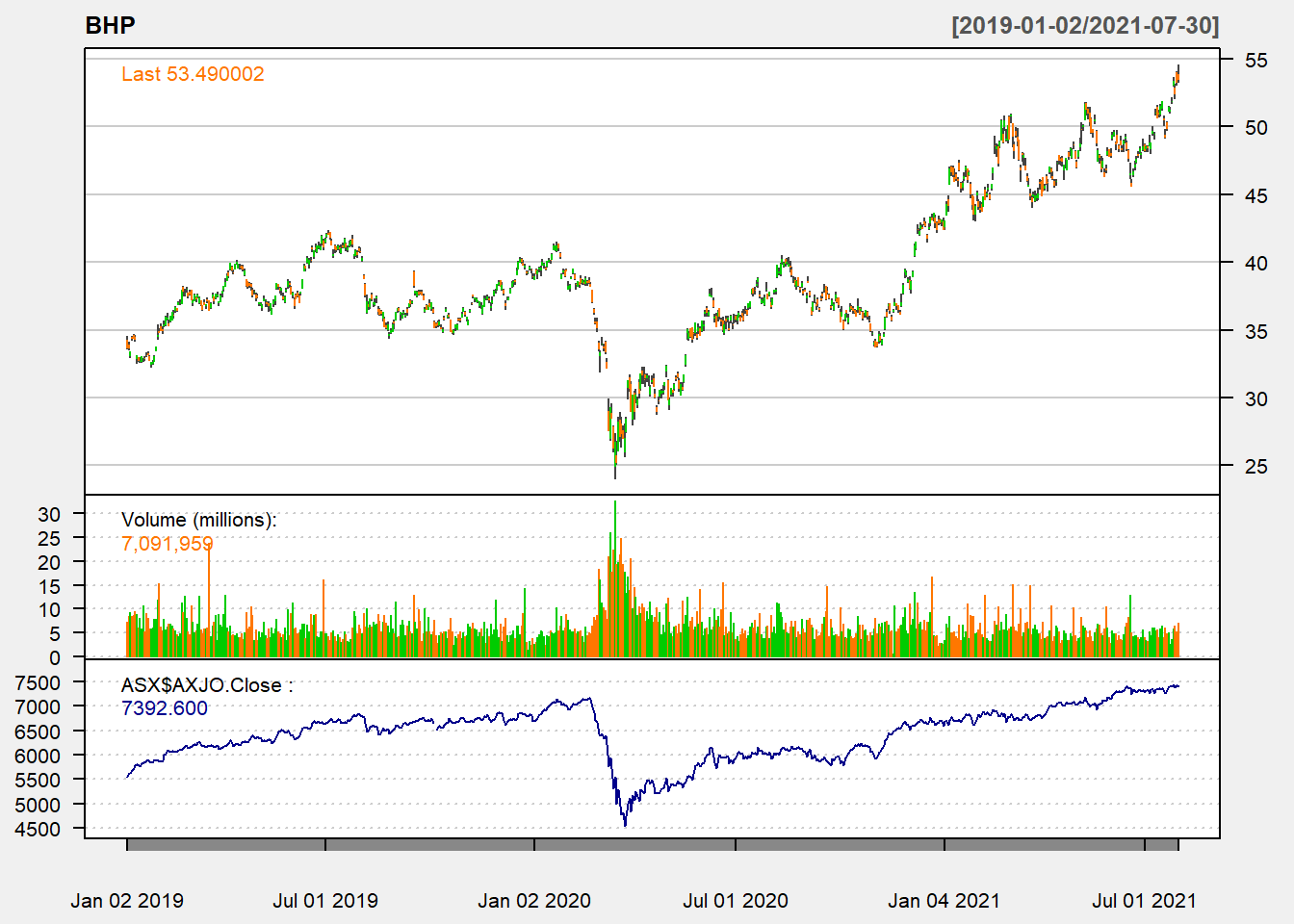 10.2.2

Line chart
chartSeries

(BHP, 

type =

 

"line"

, 

subset =

 

"2020"

, 

theme =

 

"white"

)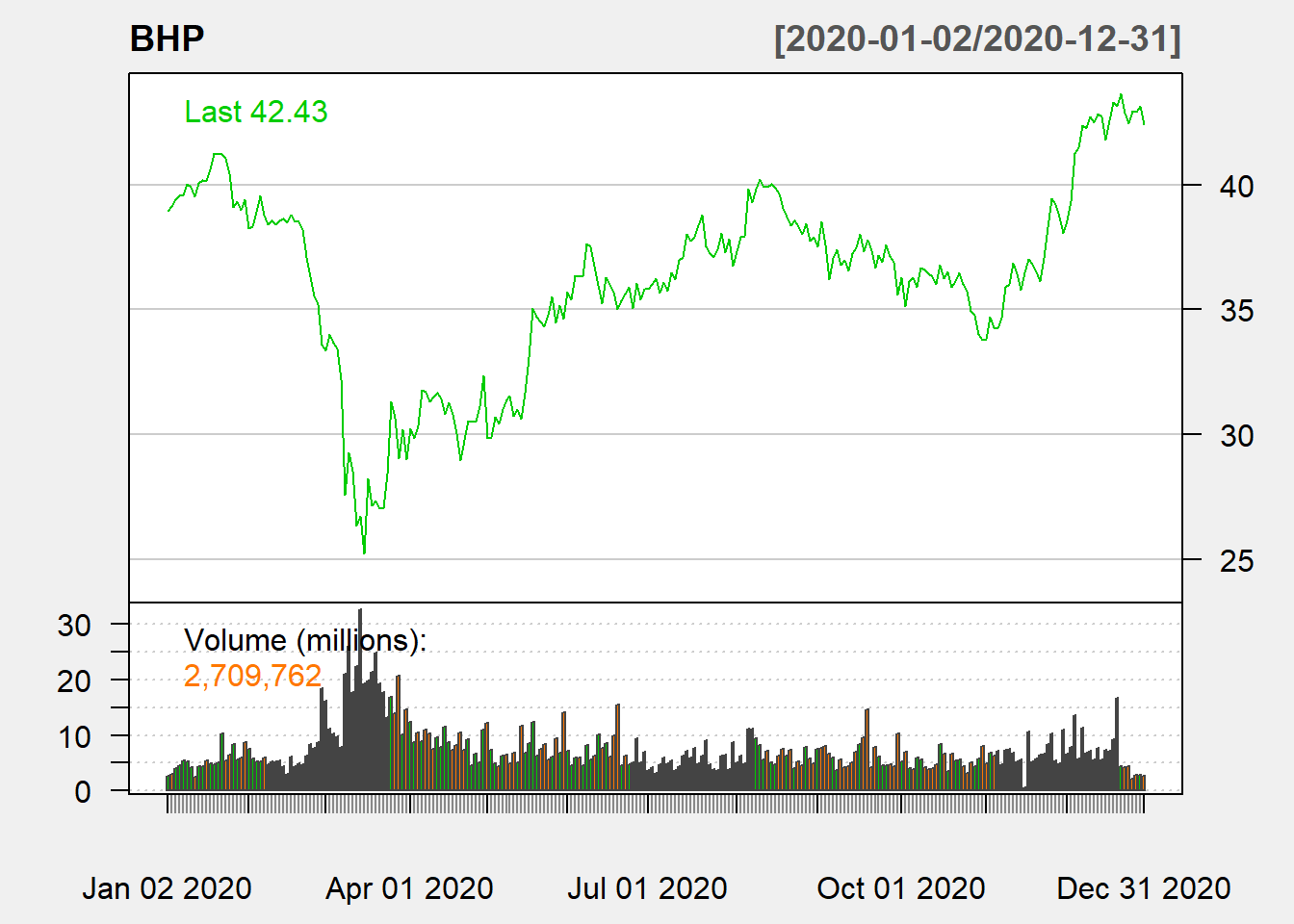 10.2.3

Candlestick chart
chartSeries

(BHP, 

type =

 

"candle"

, 

subset =

 

"last 1 month"

, 

theme =

 

"white"

)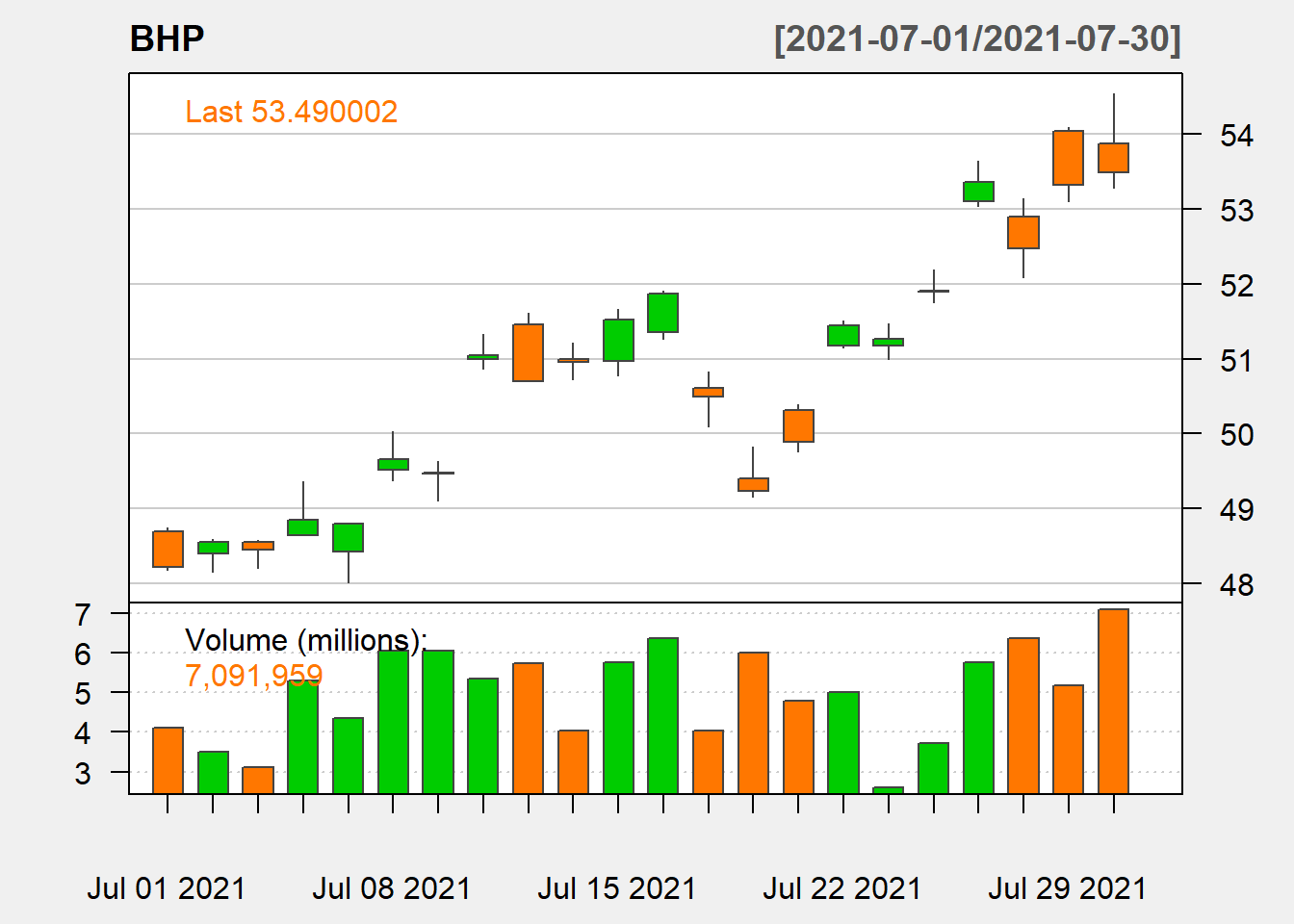 10.2.4

Add technical indicators
chartSeries

(BHP, 

type =

 

"candle"

, 

subset =

 

"last 6 month"

, 

theme =

 

"white"

,


TA =

 

c

(

addSMA

(

5

), 

addEMA

(

10

)))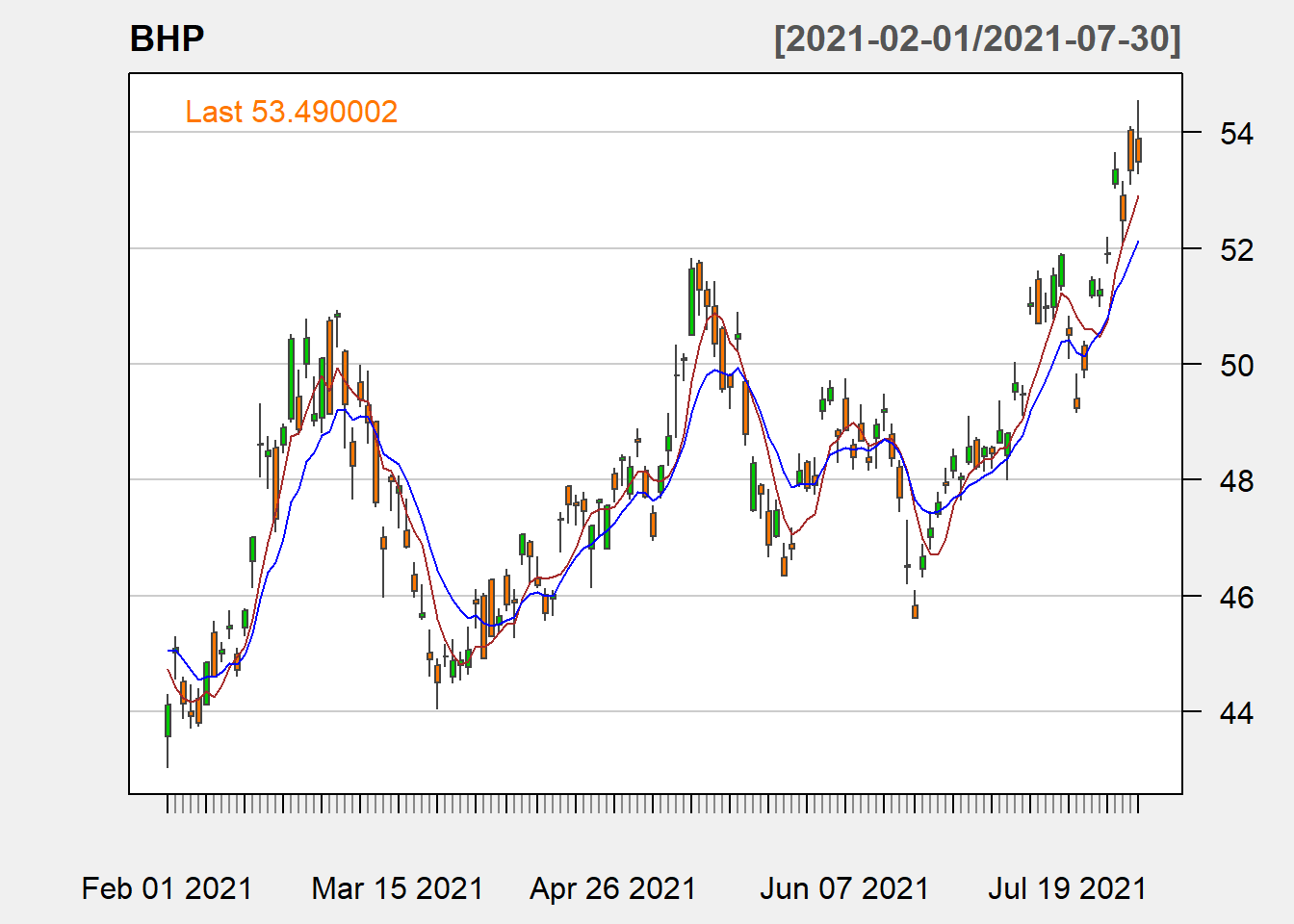 10.2.5

Adding indicators sequentially
chartSeries

(BHP, 

type =

 

"candle"

, 

subset =

 

"last 6 months"

, 

theme =

 

"white"

)